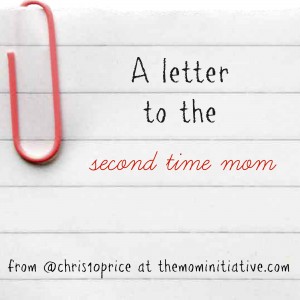 Hey there, you second time mom.
Here you are, with a baby on your bust and another by your side. Yep, your hands are full yet so is your heart. As you gaze at your new addition, you wonder how you could have ever lived without him.
To read more, head on over to The M.O.M. Initiative.
2014 M.O.M. Conference ~ BETTER TOGETHER
July 31st – August 2nd,
Jacksonville, Florida at Trinity Baptist Church

Registration Information, Location, List of Breakout Sessions, Descriptions of Workshops, Conference Speaking Team, Better Together Conference Flyer, Better Together Bulletin Insert (Full Color), Better Together Bulletin Insert (Black & White), Better Together Conference Cards (Postcard Size)