Ok ladies and gentlemen, for the past several months I have poured my heart out to you letting you in on a very private sector of my life - and today I am wondering if you would be willing to tell me YOUR story...
(image from google images)
You've read about a book that I strongly recommend any couple desiring to become pregnant, and any woman about to give birth should read - "Supernatural Childbrith". I want to give away 3 copies of this amazing book to the first 3 people who send me their fertility journey in words to myfertilityjourney@gmail.com. I have found that writing these blog post have been extremely therapeutic for me and even my husband. It's taken me back to a place where I suffered a lot of sadness and pain, and allowed me to see all the amazing things God did for us during that time. Sometimes our hurts can mask our blessings, but when we look back we can see how clearly God loves and cares for us.  Writing me at myfertilityjourney@gmail.com is also a good way for you to let out those feelings. This is an especially good exercise for those of you who haven't shared your struggle or journey with your family or friends. Sharing with me will be a safe way to release some of your anxieties over the topic. I will also commit to partner with you in prayer as your continue in your journey.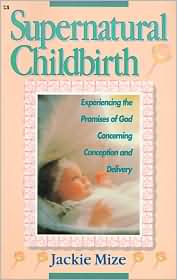 I am so excited to share this amazing book with you - if I could afford to purchase one copy for every reader, trust me I would! It goes so far beyond fertility struggles, and is even a great tool for building faith during your developing pregnancy, labor, and delivery! I was given this book as a Christmas gift many years ago, and was so scarred by my own recent experiences I refused to  read it right away. I don't think I let an entire year go by, but possibly 6 months before I picked it up to read it. I was hooked after the first page - and didn't stop reading until I was finished. It didn't take more than 2 hours to read, and then I proceeded to read it to my husband when he got home from work that day. The testimonies, scriptures, and suggested prayers in this book truly changed my life forever. I found myself memorizing scripture so I would be armed to fight the enemy's lies in my life. I even remember reading parts of it during my labor with my daughter.  I've recommended it to friends, I've loaned out my personal copy, and today I want to buy one for you!
On a more personal note, I would like to celebrate with all of you that we are having a baby BOY! We are very excited about having a little man to add to our family. So in honor of Lucas Matthew, I have asked my dear husband to spend the next month telling his side of our story. He is going to be preparing a post for all of you to read. Something that will encourage the husbands and fathers out there who are walking along side their wives during this challenging time. Not all fertility problems fall on the woman, and that is why I feel it is so important for my husband to share his story. I can't wait until next month's post - I just know it is going to be so encouraging for other couples out there in the midst of their journey.
Until next time Be Blessed and Be A Blessing