Recently, I've been blessed with the incredible opportunity to become part of The M.O.M. Initiative. The M.O.M. Initiative is a missional mentoring resource that will give Christian mothers an easy, hands on approach to passionately pursue mentor relationships with younger mothers and mothers-to-be, and ultimately impact the next generation for Christ.  Today, I'm posting about hula hooping into 2013.
Confession: I'm a multi-tasker who is tired of multi-tasking.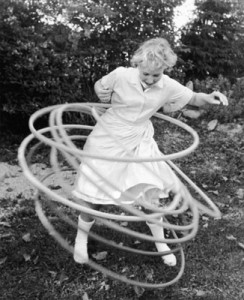 (photo source: dailyhistory.net)
Entering 2013, my eyes have barely focused on the future from the blur of 2012.  It was the year of the multi-tasking mamma, aka me (was it for you too?).  From planning a two year old tu-tu birthday party, putting our house up for sale, moving to our hometown, and leaving my stay-at-home job for church ministry, my days were filled juggling.  To mark the end of our crazy year, my husband and I ventured to the salty air and crashing waves in Florida to clear our heads and begin thinking about what is to come.