Happy Monday truth-seekers! Today I am so excited to share with y'all an unconventional conference that I missed last year but am so excited to be attending this year.  And, the best part?  I want YOU to attend with me.  It's called (in)Real Life by the lovely ladies of (in)courage.  Watch this video to learn more:
Here's some more details:
Registration opens Monday January 14th at www.inrl.us 
It's FREE!
Everyone who registers on the day registration opens (Monday Jan 14) gets a copy of our (in)courage 365 Daybrightener while supplies last (US residents only).
Everyone gets a copy of our first eBook: "Best of the Beach House 2012."
About: (in)RL was born out of two years spent listening to women in the comments at (in)courage craving local, real life community. Derived from the social media acronym "IRL" or "in real life," (in)RL is an invitation to share what we've learned about community and encourage women with stories and suggestions for connecting deeper in real life.
Think of it as a FREE girl's weekend away that doesn't require packing or plane tickets, where women can kick off any expectation of perfect, set aside their fears, their shyness, their worry that they're not good enough, and find some of Jesus' words of rest woven into every video shared here.
When: The (in)RL webcast kicks off on Friday, April 26 and (in)RL meetups follow on Saturday, April 27.
What: Last year we explored the nitty gritty of community. This year we're taking a closer look at what it takes to stay rooted in community when sometimes just walking away would be so much easier and tons more convenient. Women share stories of how they've chosen to stay through hard marriages, challenging parenting, worthwhile friendships. How choosing to stay has freed them more fully and unexpectedly than if they'd cut and run.n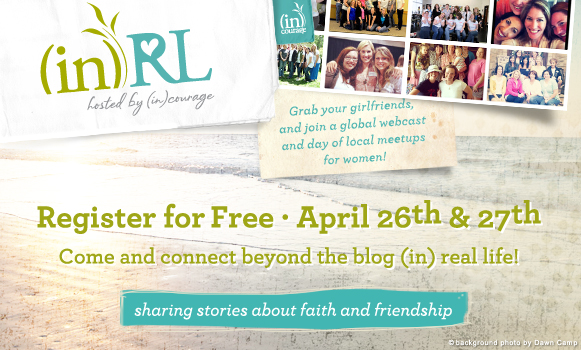 I'm so excited!  I'd share more but Adeline is eating my chips from lunch and Maralee is looking for Minne Mouse but we will talk soon!  I'll be hosting a meet up so let me know in the comments section if you want to meet up together if you live in the Alabama area ;)
Yay!
Till next time, let your light shine!
Blessings, christen
[box_dark]On Valentine's Day, we're launching illuminate.  Will you answer these short 10 questions to help us better serve you with the new site?  Your day just might shine a little brighter![/box_dark]