It happened again this morning. I was irritated at my children; desperately trying to get them to school on time. The twins are only in preschool but some mornings I feel like I have two teenagers on my hands. And, I do what I hoped I wouldn't: I snap.
It doesn't help that it's December, one of the craziest months of the year. It doesn't help that I'm pregnant and working and quite honestly tired. It doesn't help that my husband is traveling and the dishes are piled up in the sink and those crazy fruit flies have appeared again making me feel even more like I don't have it all together.
Instead of peace, I feel panicked. I try not to cry but all I can mutter to God is "I'm tired."
On Monday, a friend who barely speaks at Bible Study said that she needed to learn how to just "chill out." We all nodded our heads in agreement.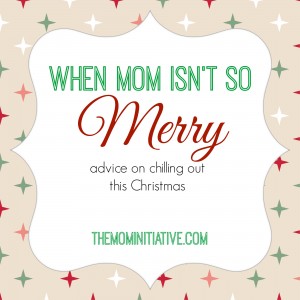 To read more, head on over to the mom initiative today.
Want a great gift for mom this year? Buy her a ticket to The MOM Initiative's Better Together conference in Jacksonville this August.